Banguide på Lauro Golf
Klicka på banan för att se alla hål, banöversikt, fotografier m.m.
Om Lauro Golf
Lauro 27 Golf can be found in the middle of beautiful pure nature in spectacular surroundings. The course consists of 27 holes that can be played in three different combinations, all par 72. From the beginning the design and function of the course has been based on respecting the nature and the environment that surrounds it by not only saving and caring for the already existing trees but also by planting thousands of new trees, most of them indigenous Andalusian species. In Lauro Golf the nature is everywhere. Within the whole complex the direct contact with the nature is constant and whether you are playing golf, living in the residences or just enjoying a stroll in the surroundings you can see that we are not the only visitors at Lauro Golf. You can often see rabbits, ducks, partridges, herons and even eagles on and around the golf course, our friendly neighbors who are enjoying the micro-climate of the course created by the thousands of trees and the fourteen lakes of the golf course. The course was designed by the late Folco Nardi and the idea was to create a course that was technically challenging yet not too difficult. With a good concentration and the correct selection of the clubs the player can end up with a good score in one of the 50 competitions played every year at Lauro Golf. The extension of the course with the holes 19-27 designed by Mariano Benitez follows the same lines and equally requires concentration and skills. The course is moderately flat and can be played by foot though there are two holes located on the side of the mountain and from which we can enjoy some spectacular views over the valley of Guadalhorce and the Mediterranean. The club house is located in an old Andalusian building, Cortijo el Paredón, where you can find the restaurant, changing and locker rooms, pro shop and the Caddy Master´s Office. On our premises and the surroundings you can also find a swimming pool, a padel tennis club, lawn bowls club and an equestrian centre. In the middle of the cortijo there is a fabulous patio, with an enormous ficus tree in the middle which offers shade to the players enjoying their food and drinks after a game of golf
Klubbfaciliteter
Kontaktuppgifter
Caddee App
Ta emot och handicapregistrera ditt resultat från bollens markör. Se ännu fler gratis banguider. Testa premium och utmana dina vänner i match medan Caddee håller ställningarna. Dina tidbokningar hittar du som vanligt på startsidan och du kan skriva scorekort på alla Sveriges banor.
Vad passar dig?
Alla funktioner från Basic
Alla svenska banor – ritade av Caddee
Matchspel mellan alla i bollen
GPS-mått till hela green
Personlig statistik
Verktyg för slaglängder
Förslag till klubbval
Eclectic på alla banor över året
Anteckningar & fotominnen
14 dagars gratis provperiod
Premium är gratis för juniorer
Är du 01:a eller yngre?
Logga in i Caddee via appen och registrera ditt Golf-ID så får du automatiskt Caddee Premium - vi bjuder.
Tee

Red

256

Blue

289

Yellow

311

White

328
Tee

Red

99

White

119

Yellow

119

Blue

119
Tee

Red

243

Yellow

288

Blue

288

White

307
Tee

Red

468

Blue

511

White

549

Yellow

549
Tee

Red

127

Yellow

158

Blue

158

White

183
Tee

Red

291

Blue

317

Yellow

317

White

342
Tee

Red

318

Blue

365

Yellow

372

White

421
Tee

Red

409

Blue

466

White

500

Yellow

500
Tee

Red

287

Blue

315

Yellow

329

White

329
Tee

Red

385

Yellow

436

Blue

436

White

470
Tee

Red

265

Blue

301

Yellow

331

White

331
Tee

Red

142

Blue

142

Yellow

164

White

195
Tee

Red

298

Blue

298

Yellow

330

White

349
Tee

Blue

322

Red

322

Yellow

342

White

365
Tee

Red

250

Blue

292

Yellow

311

White

311
Tee

Red

245

Blue

303

Yellow

303

White

308
Tee

Red

133

Blue

133

Yellow

140

White

158
Tee

Red

441

Blue

441

Yellow

471

White

513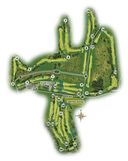 1
2
3
4
5
6
7
8
9
10
11
12
13
14
15
16
17
18
1-Par cuatro fácil donde no sólo debemos preocuparnos del lago frontal. sino también de los límites tanto por la derecha como izquierda. Mejor madera 3, híbrido o hierro largo de salida. Green muy protegido. Easy starter Par 4, the only real obstacle is the frontal water. 3 wood, hybrid or a long iron will put you in great shape for a second shot to an elevated green protected by a bunker on the left.
Tee

Red

254

Blue

288

Yellow

303

White

303
Tee

Red

95

Yellow

125

Blue

125

White

132
Tee

Red

275

Blue

311

Yellow

311

White

350
Tee

Red

120

Blue

152

Yellow

152

White

176
Tee

Red

407

Blue

463

Yellow

463

White

512
Tee

Red

310

Blue

370

Yellow

370

White

398
Tee

Red

443

Blue

479

Yellow

520

White

573
Tee

Red

258

Blue

295

Yellow

307

White

307
Tee

Red

269

Blue

310

Yellow

322

White

322
Tee

Red

256

Blue

289

Yellow

311

White

328
Tee

Red

99

White

119

Blue

119

Yellow

119
Tee

Red

243

Blue

288

Yellow

288

White

307
Tee

Red

468

Blue

511

White

549

Yellow

549
Tee

Red

127

Yellow

158

Blue

158

White

183
Tee

Red

291

Blue

317

Yellow

317

White

342
Tee

Red

318

Blue

365

Yellow

372

White

421
Tee

Red

409

Blue

466

White

500

Yellow

500
Tee

Red

287

Blue

315

White

329

Yellow

329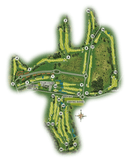 1
2
3
4
5
6
7
8
9
10
11
12
13
14
15
16
17
18
Tee

Red

385

Blue

436

Yellow

436

White

470
Tee

Red

265

Blue

301

Yellow

331

White

331
Tee

Red

142

Blue

142

Yellow

164

White

195
Tee

Red

298

Blue

298

Yellow

330

White

349
Tee

Blue

322

Red

322

Yellow

342

White

365
Tee

Red

250

Blue

292

White

311

Yellow

311
Tee

Red

245

Yellow

303

Blue

303

White

308
Tee

Red

133

Blue

133

Yellow

140

White

158
Tee

Red

441

Blue

441

Yellow

471

White

513
Tee

Red

254

Blue

288

Yellow

303

White

303
Tee

Red

95

Blue

125

Yellow

125

White

132
Tee

Red

275

Blue

311

Yellow

311

White

350
Tee

Red

120

Blue

152

Yellow

152

White

176
Tee

Red

407

Blue

463

Yellow

463

White

512
Tee

Red

310

Yellow

370

Blue

370

White

398
Tee

Red

443

Blue

479

Yellow

520

White

573
Tee

Red

258

Blue

295

Yellow

307

White

307
Tee

Red

269

Blue

310

White

322

Yellow

322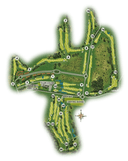 1
2
3
4
5
6
7
8
9
10
11
12
13
14
15
16
17
18